N°1 Motorcycle taxi service in Paris since 2001


N°1 Motorcycle taxi service in Paris since 2001

+33153901401
connect
30,000 trips every year Customer reviews about 670429 transfers

Why choose motorcycle taxi by Motocab?
The largest motorcycle taxi fleet in Paris and its airports:
With currently 90 experienced drivers, Motocab has by far the most responsive fleet in the motorcycle taxi market and we are able to give you an immediate response of availability of your motorcycle taxi on a simple call to our call center.
Choose your favorite drivers and always be safe on your motorcycle taxi: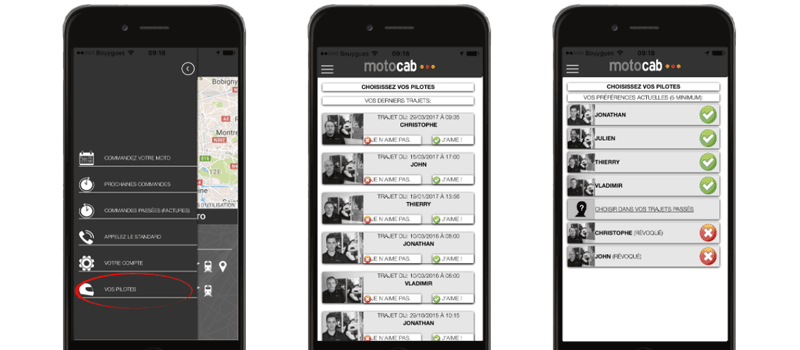 The Motocab motorcycle taxi booking application (download) allows you to choose from the drivers whom you have ridden with the ones with which you have the most affinities. Because ridding a motorcycle taxi requires trust, you choose your drivers, the motorcycles are controlled by us and you get an Airbag vest made in France and designed for the motorcycle taxi profession as well as all standard equipment to make your motorcycle taxi experience a pleasure and not just a time-efficient solution.
The experience of motorcycle taxi since 2001, and advanced logistics:
Motocab is the pioneer of motorcycle taxi and the company has been able to evolve by developing permanently and internally the only computer tool in the motorcycle taxi market exclusively dedicated to 2-wheel transportation within Paris as well as towards and from airports (Orly and CDG). We control in real time the location of our motorcycle taxi fleet and the human remains in the heart of motorcycle taxi by Motocab with 5 dispatchers who constantly monitor the smooth progress of transfers.
Simply book your motorcycle taxi:
You use the motorcycle taxi, our application is for you. You are an assistant who needs to handle a large number of transfers by motorcycle taxi for your employees, our customer area is for you (consolidated end of month invoices, codes imputations, confirmations of reservations by SMS and email, etc ...).
Real premium positioning with a controlled price:
We ride the most expensive motorcycles on the market because a motorcycle taxi has to be comfortable. We answer all your questions about the motorcycle taxi from a call center located in our premises in Boulogne-Billancourt to keep a level of service up to your expectations and those of your assistants. We provide complete equipment, expensive and frequently renewed. This choice of service quality in our business made more than 15 years ago positionned us as the leaders of the motorcycle taxi and we can offer the best quality of service at the same price as our competitors thanks to a higher volume of orders.
The Goldwing 1800, the absolute reference of the motorcycle taxi: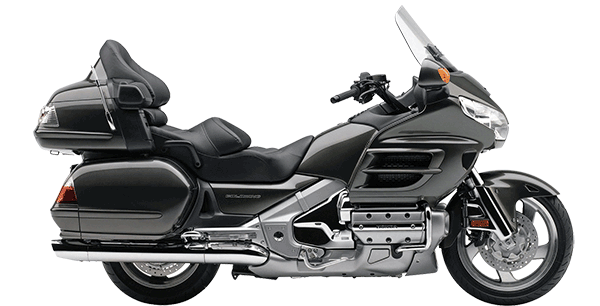 We made the choice to offer only the most comfortable bike, the Goldwing 1800. At Motocab, no scooter! Real motorcycles for real motorcycle taxi!!
The Airbag vest, our security pledge:
The drivers of our fleet offer Airbag vests made in France for an ever more reassuring experience of the motorcycle taxi.
Motocab Event, get your events moving with our motorcycle taxi fleet: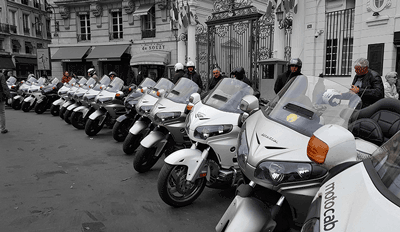 Delivery of 5 to 80 motorbikes, we dedicate someone on site to coordinate the operation with you. Download our brochure and give your guests a unique experience with the motorcycle taxi group.